Last Updated on 20 June 2019
Types of life insurance you can claim while you're still alive
---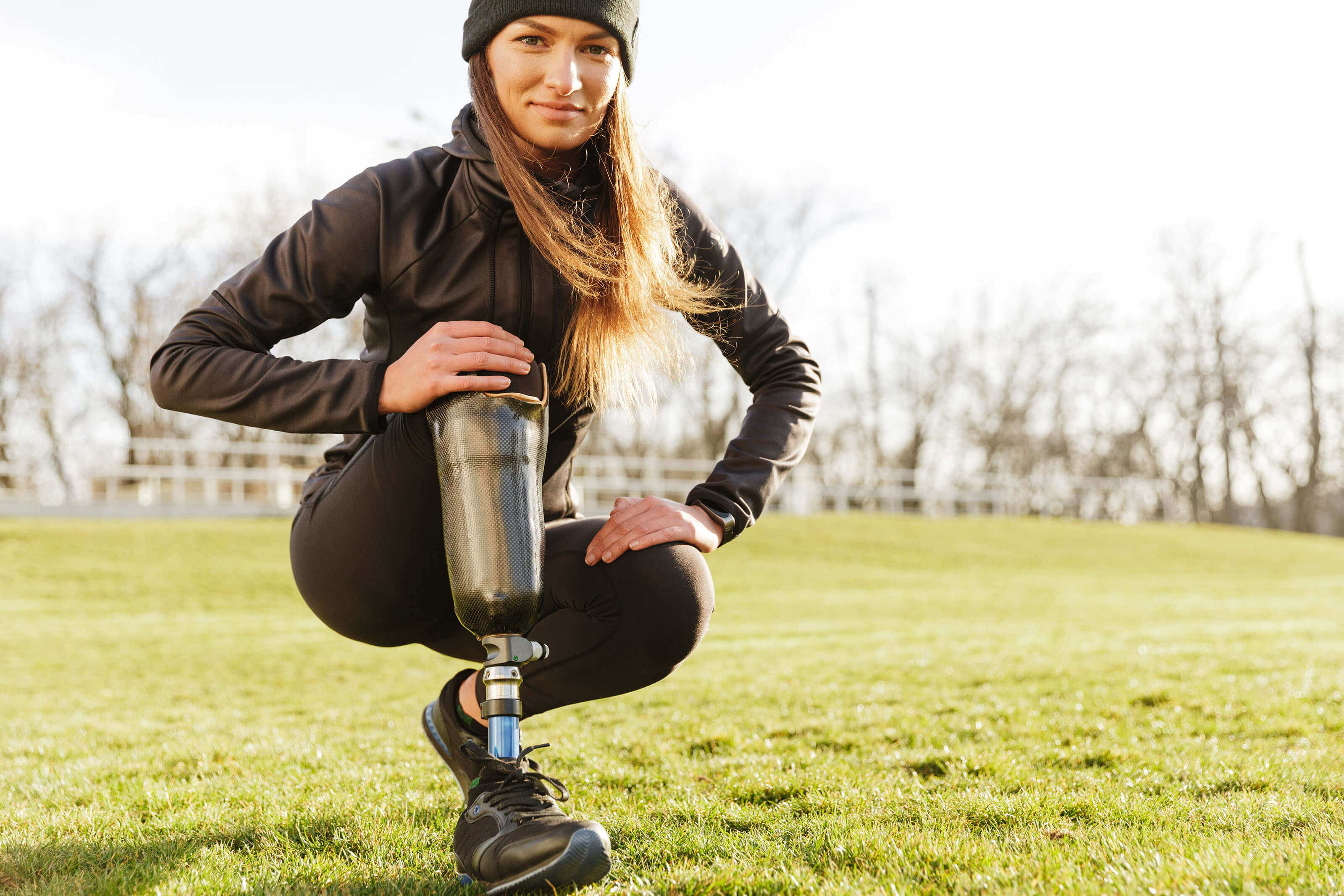 Key Points
Term life insurance typically pays out to nominated beneficiaries after a policyholder's death or terminal diagnosis.
TPD, trauma, and income protection policies pay out to policyholders while they are still alive, to provide financial support following a serious illness or injury.
Combine different types of life insurance to make sure you're covered for a range of events, and that you've got the amount of cover you need.
Does life insurance pay back if you don't die?
Life insurance is designed to help compensate for the loss of income that comes with an unexpected death, illness, or injury. The policyholder pays a regular premium and is covered up to a certain amount. If a covered event takes place, a benefit is paid out to the named beneficiaries or the policyholder.
In this guide we'll talk about the different types of life cover and what they do, but first let's answer an important question: does life insurance pay back if you don't die?
As with any type of insurance, your premiums are not refunded if you don't need the insurance. However, you may have heard of a now-defunct type of life cover called 'Return of Premium'.
Return of Premium Life Insurance
Return of Premium, or ROP, was a type of life insurance that refunded your premiums if you reached the end of your policy without making a claim. Although it sounds good in theory, it didn't work so well in practice.
The premiums for ROP cover were high, and the cover didn't increase in line with inflation as other policies do. Part of life cover's appeal is the ability to adjust it as your personal circumstances change, so you always have the right amount of cover for your situation.
So while ROP life insurance did pay back if the policyholder survived the term of the policy, it was not as effective as other types of life cover. The focus seemed to be on the refunding of premiums, rather than the invaluable financial protection life cover offers.
Return of Premium life insurance policies are not available in Australia anymore. Instead, term life cover is the main type of life insurance. Term policies pay out a lump sum benefit if the policyholder dies or is diagnosed with a terminal illness.
Term life cover is more flexible, both in terms of cover and premium payments. It provides policyholders the peace of mind that their families won't be saddled with debt if they die.
This is the type of insurance people think of when they think of life cover, because it generally pays out a benefit only if you pass away. But what you might not realise is that there are other forms of life cover that pay benefits when you don't die.
Living life insurance
There are three main types of 'living life insurance' designed to help you maintain your finances if you suffer an unexpected injury or illness:
Total and permanent disability cover (TPD)
Trauma cover
Income protection cover
Where term life cover is usually paid out as a lump sum benefit to a named beneficiary, these three types of cover are typically paid out to the policyholder. In effect, these are the types of life insurance that pay out while you are still alive.
Let's take a detailed look at each type of cover, and the differences between them.
TPD insurance
Total and Permanent Disability cover provides financial protection if you are totally and permanently disabled from a serious injury or illness, and unable to work again.
TPD is paid out as a lump sum to cover lost earnings associated with the inability to work. It's not hard to imagine how difficult it would be to maintain your current lifestyle with the loss of a primary income.
The lump sum TPD benefit can pay for expenses like the mortgage, childcare, and utilities, but it can also cover things you may not have considered in relation to a disability. Home modifications, medical bills, and equipment like wheelchairs and prosthetics can be expensive, and TPD can help with the costs.
There isn't a standard definition for what it means to be 'totally and permanently disabled,' so each insurer may define it in their own way. It generally covers things like brain injury, loss of sight, and cancer; to find out exactly what's covered, always read the Product Disclosure Statement.
You'll also need to understand the difference between 'any' and 'own' occupation. It's easier to satisfy the 'own occupation' condition, though be aware that some high-risk jobs may not be covered.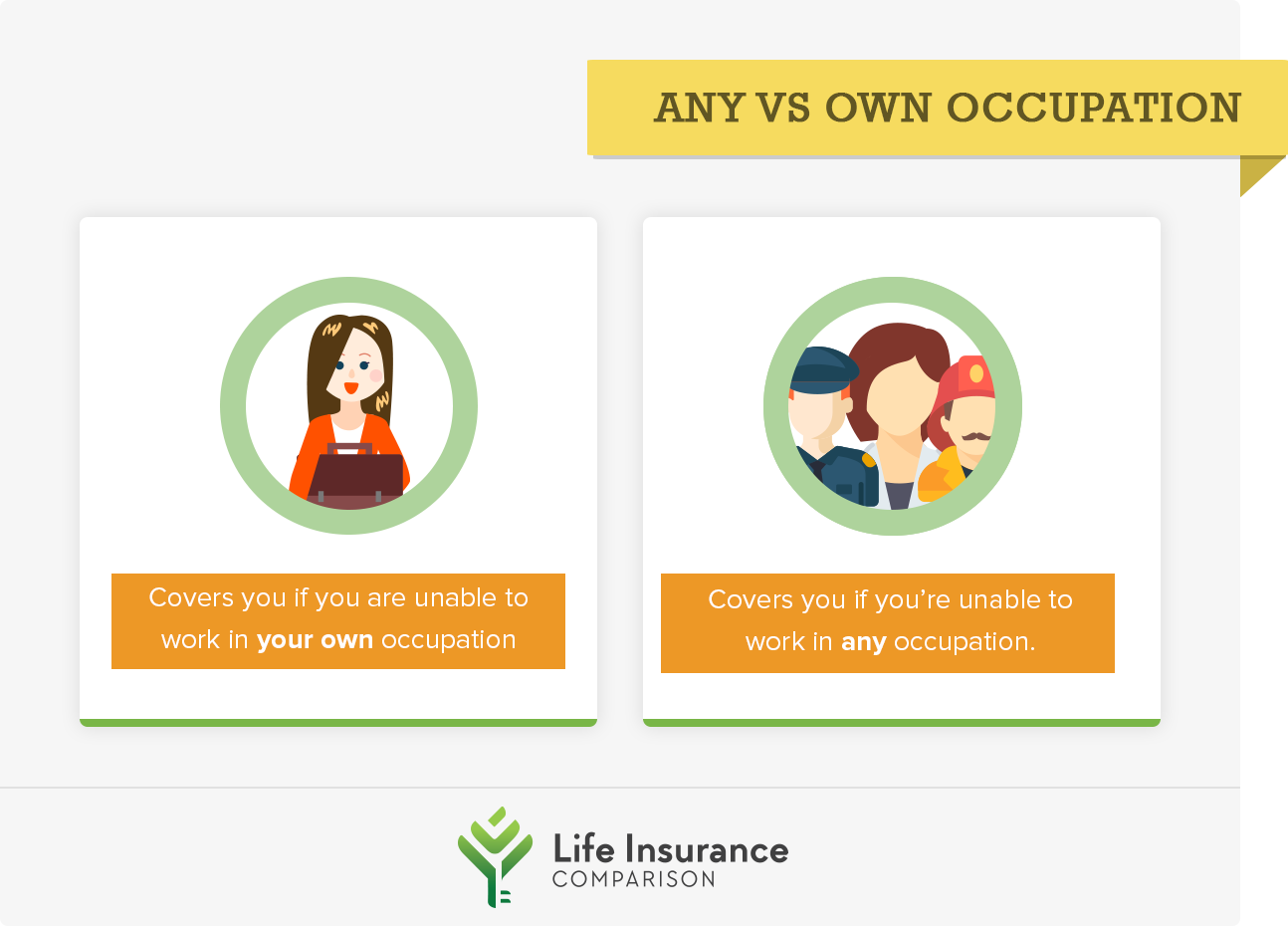 It is possible to purchase TPD insurance through your superannuation fund, though TPD through super can only offer coverage for 'any occupation.'
Trauma insurance
Like TPD insurance, trauma cover is also a type of life insurance that pays out if you don't die. It is also called critical illness insurance, major illness insurance, and recovery insurance.
Trauma cover pays out a lump sum to the policyholder if he or she is diagnosed with a serious illness or suffers a serious injury.
Trauma claims are commonly made for the following conditions:
Cancer
Coronary Bypass Surgery
Heart Attack
Stroke
Serious injury due to accident
If you experience a traumatic health event, it's likely that you'll be unable to work for an extended period of time. Trauma cover can help cover lost income, but it can also help with the financial strain that often comes with a traumatic illness.
Trauma cover can relieve the stress of having to cover medical bills, therapy, and any modifications you might have to make to your home and transportation. There are a few things to consider when determining how much trauma cover you need.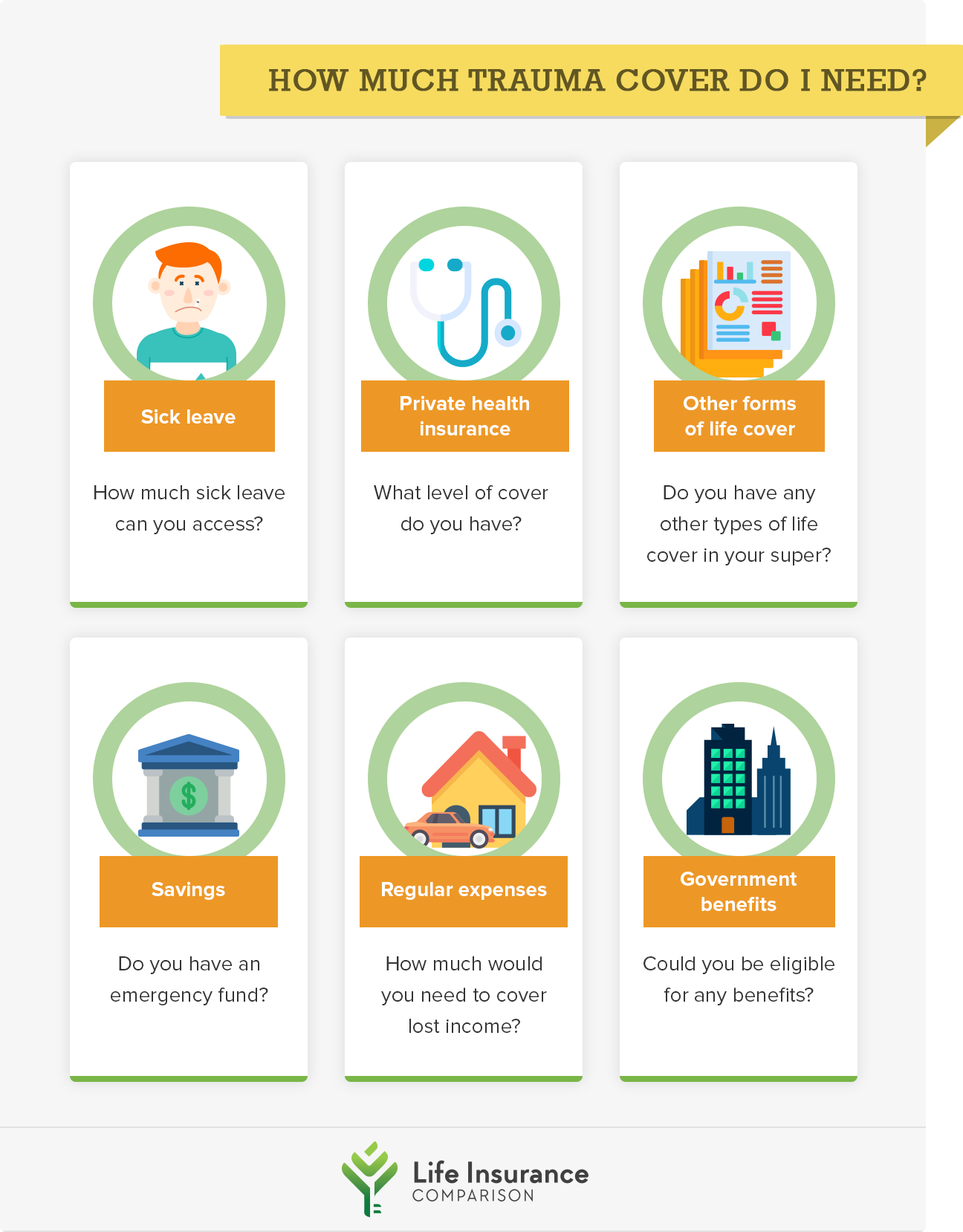 There are a few key differences between TPD cover and trauma cover. As of July 2014, trauma cover is no longer available through superannuation for new members, while 'any occupation' TPD cover can still be purchased through super.
In addition, TPD cover depends on your long-term ability to work, while trauma cover is related to the diagnosis of a covered illness or injury.
Income protection insurance
Income protection is another type of living life insurance that pays benefits to the policyholder. Like TPD insurance, it is tied to your ability to work. Unlike TPD insurance, it pays an ongoing benefit rather than a lump sum. Also unlike TPD insurance, it pays out when you are temporarily unable to work, as opposed to permanently.
Income protection replaces up to 75% of your pre-tax income when you are temporarily unable to work due to an illness or injury. It's extremely useful for self-employed workers who don't have access to sick leave, though anyone who depends on their income can benefit from income protection.
Income protection can complement any existing sick leave you have, providing a critical income stream when you're not able to work. Most policies have a maximum benefit period—for example, 2 years—during which they will continue to pay benefits.
You can reduce your income protection premium by reducing your benefit period or choosing a longer waiting period. The waiting period is the time you have to wait before making a claim, usually 30 days to three months.
Income protection insurance is frequently offered through superannuation funds, so it's possible you may already have some in place. However, as with any type of insurance, it's key to be aware of how much cover you have and whether or not it matches your needs.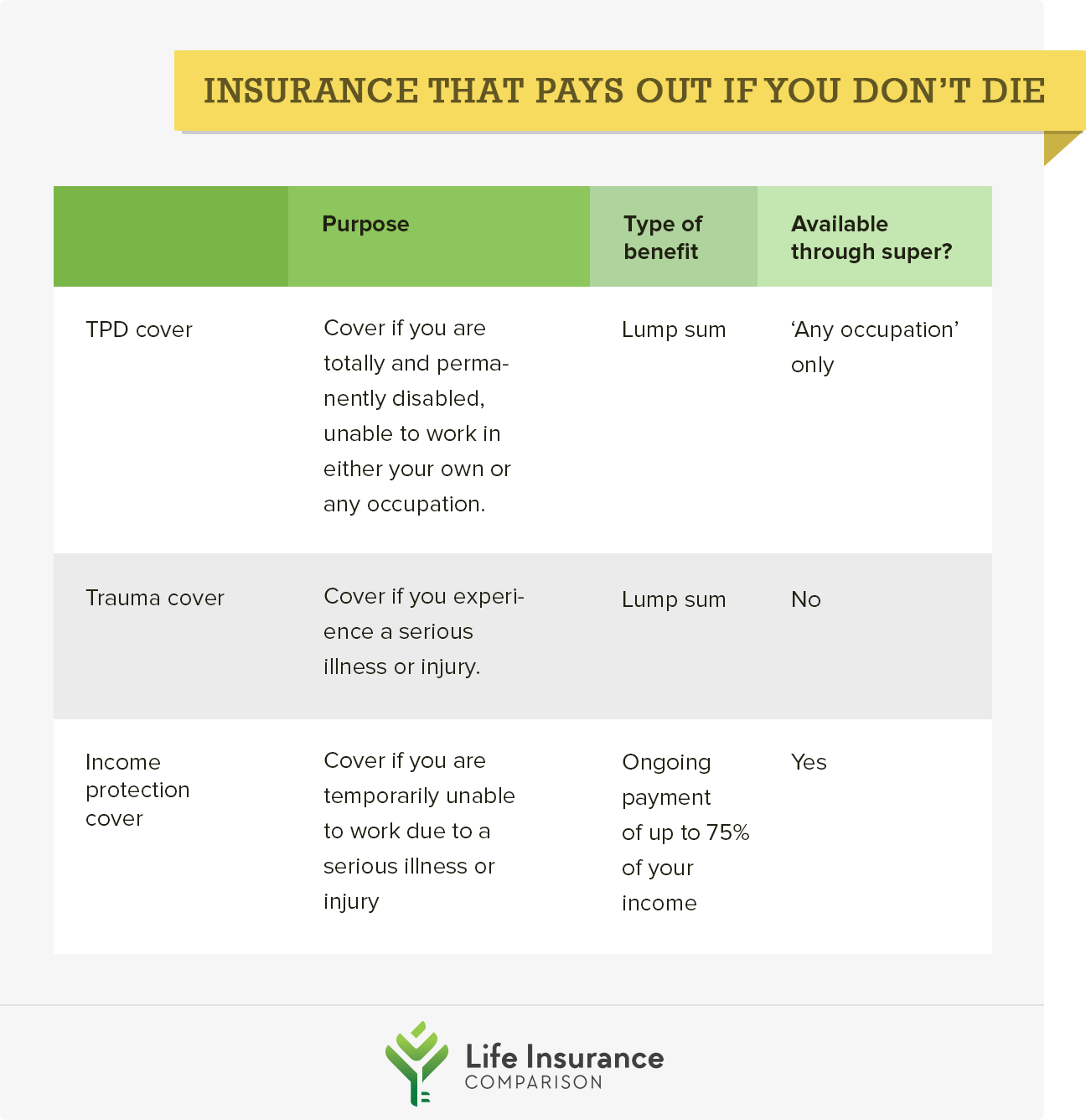 If you're looking for life insurance that pays back if you don't die, you have several options to choose from. The nice thing about life cover is that you don't have to choose one policy; you can mix and match to customise a level of cover that fits your lifestyle.
For more information on how this works, don't hesitate to contact our friendly team of advisers. They're here to answer your questions about life cover, and help you compare policies, for your confidence and peace of mind. They'll also do their best to save you money along the way, whether it's by bundling cover for discounts or comparing deals to find you a better price.
Complete the form below to take the first step towards protecting your family's finances.